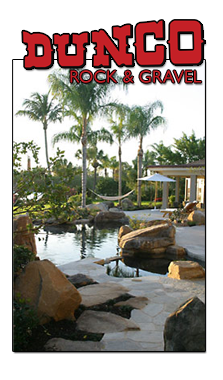 Since 1983 Dunco Materials has been distributing quality Ready-Mix concrete. With our recent expansion of Dunco Rock and Gravel we now offer all of our clients an even greater line of Value-Added products

With our growing inventory of landscaping materials you're sure to find the precise touch to accent or beautify the curb appeal of your home or business. We offer a wide variety of landscaping aggregates available in a variety of shapes, colors and textures. Plus we have one of the area's largest selections of mulch, Flagstone,and boulders in one location

We also offer a wide variety of building products including expansion joints, rebar, and bagged cement products such as mortar, portland and super stucco, precast concrete sills, lentils, and parking bumpers.